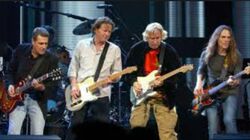 Eagles are a successful American rock band, formed by Glenn Frey, Don Henley, Bernie Leadon and Randy Meisner in 1971 in Los Angeles. Nowadays, the members are Don Henley, Joe Walsh and Timothy B. Schmit. Their greatest hits include Hotel California, Take It Easy, Desperado, Take It to the Limit, Lyin' Eyes and Life in the Fast Lane.
Formation
[
]
The history of the Eagles begins when Don Henley comes to Los Angeles from Texas with his band Sliloh and Glenn Frey moves from Michigan where he forms the band Longbranch Pennywhistle with John David Souther. In the nightclub where Longbranch Pennywhistle played their songs called the Troubadour, Glenn Frey and Don Henley met for the first time and became acquainted through their mutual record label, Amos Records. Later, in early 1971, they were both asked by John Boylan, Linda Ronstadt's manager at the time, to form her backing band, which they accepted. Boylan later recruited Randy Meisner to become active in Linda Ronstadt's roster of backing musicians and according to Frey, Ronstadt suggested Leadon, who came over from The Flying Burrito Brothers.
While on the summer tour promoting Ronstadt's Silk Purse album, Frey and Henley decided to form a band together and informed Ronstadt, Leadon and Meisner.