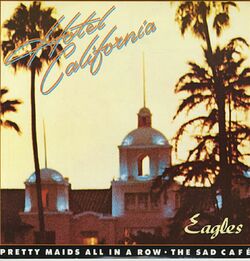 In November 2017, a special pack for the 40th anniversary of the album was released. It includes remastered audio of the album. The double pack included 10 tracks recorded at "The Forum" in October 1976. Other versions of songs included appears on "Eagles Live".
Take It Easy
Take It To The Limit
New Kid In Town
James Dean
Good Day In Hell
Witchy Woman
Funk #49
One Of These Nights
Hotel California
Already Gone
as mentioned earlier, additional tracks appeared on Eagles Live on different night from the 3 shows in October of 1976. They are listed below
- Take It To The Limit (the first night, meaning the reissue was ethier the second or third)
- New Kid In Town
- Desperado / Desperado (reprise)
- Wasted Time
The delexe pack (varies from set) includes the two discs, a blu-ray 5.1 surround sound remaster of the original album, a replica tour book (version for the 1977 shows), t-shirts etc. are all featured for the 40th anniversary packs.